Nordic Rescue Boat
XL PRO | MAGNUM PRO
Nordic Rescue Boat is a fire and rescue boat for all assignments, large and small.
​
Both Nordic Rescue XL PRO and MAGNUM PRO are built on reliable and uncomplicated allround boat hulls from Buster Aluminum boats. The boats can be driven on shallow water, not more than 30 cm, and are perfect to drive on rivers, shallow lakes just as safely as on the open sea. The engines are Yamaha, converted to water jets by MinAb in Kiruna, Sweden. The water jet construction ensures that there is no propeller that can hurt people and personell working in the water.
​
Our unique water jet makes the boat fast, even when it's fully loaded. The engine is quickly converted to a fire water pump that gives from 3500-5000 litres per minute at 8-10 bar. Since the boat can get into shallow water, the boat can be driven against shore and provide fire brigades with unlimited water supply.
BUSTER MAGNUM PRO




This is the larger version of Nordic Rescue Boat, built on Buster Magnum Pro. 250 HP Yamaha engine gives a speed around 40 knots and as a fire water pump it gives 4500-5000 liters per minute at 8-10 bar.
Read more about Buster Magnum Pro
BUSTER XL PRO




This boat is smaller, built on Buster XL Pro.

175 HP Yamaha engine gives a speed around 35 knots and as a fire water pump it gives 3500-4000 liters per minute at 8-9 bar.
Read more about Buster XL Pro
Nordic Rescue Boat is equipped with

Buster Q
The 10 inch smart screen is integrated into the control pad. Buster Q includes electronic navigation, charts, all instruments of the boat, user guide and guide video, weather forecasts, radio and network connection.
All the manuals can be found on Buster Q. In addition, you have instructional video regarding knots, boat handling, port maneuvers and safety on board.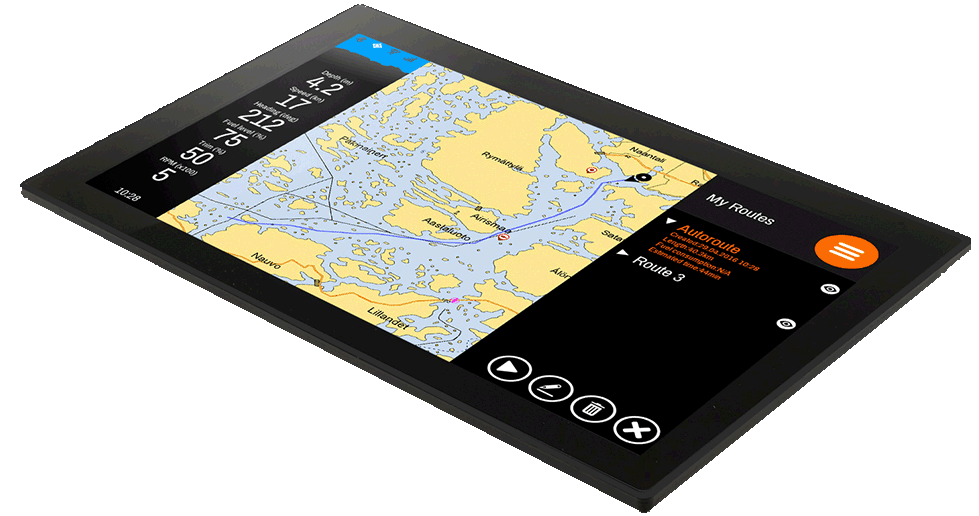 SPECIFICATIONS AND BENEFITS
OF NORDIC RESCUE BOAT
The boat is based on standard components that can be serviced with all Yamaha dealers, it is equivalent to low maintenance costs.

Deep 30 cm, can be driven in rivers and shallow lakes as safely as on open sea.

No propellers that can hurt divers or staff in the water.

Good platform with ladder in the stern.

BUSTER XL PRO is less than 6 m and may be performed without level 8 professionally.

It is a safe and uncomplicated all-round boat.

Standard equipped with adjustable hydraulic control, an ergonomic control pad with an integrated 8 "plotter that guarantees the best comfort and driving pleasure.

Can be supplemented with radar.

The hull design gives a sense of great comfort even on windy water.

The engines are Yamaha, rebuilt by MinAB in Kiruna.

Turns the outboard engine into an efficient fire water pump.

Converting the engine to a fire water pump is easy with the push of a button.

As a water pump it provides from 3500 l / min at 8-9 bar pressure.

Can be set against the beach and provide a fire with unlimited amount of water.